herbert meets: liam farquhar
(drum roll please) meet liam farquhar or @liamfarquhar: May's Barbican Instagrammer in residence.
Every month the Barbican runs a competition to find someone to showcase events, exhibitions etc. through their eyes / their instagram (pretty cool, right?) and liam was the 'chosen one' for May.
I have followed a couple of the 'instagrammers' in residence, but Liam's photographs really grabbed me so I got in touch and to my delight he was up for telling me a bit more about himself his photography and his 'relationship' with classical music.
It turns out he's a really cool guy.
So, Liam how did you become the Barbican Instagrammer in residence?
My friend works at the Barbican, so she was the one who made me aware of it. To be honest I'm new to photography so I didn't think I'd win it, especially as one of the previous winners is sponsored by Sony and has over 100k followers on Instagram! Someone probably dropped out last minute. But hey, I'm taking it!
What's the coolest thing you've seen since being 'in residence'?
The Manana Cuba performance (pic below) was my favourite. Two songs in and everyone was up dancing – I've never seen anything like it in a classical concert hall before. People then spilled out into the lobby to drink rum and continue dancing. If there's one thing that'll cure a stressful week it's the rum-salsa combo.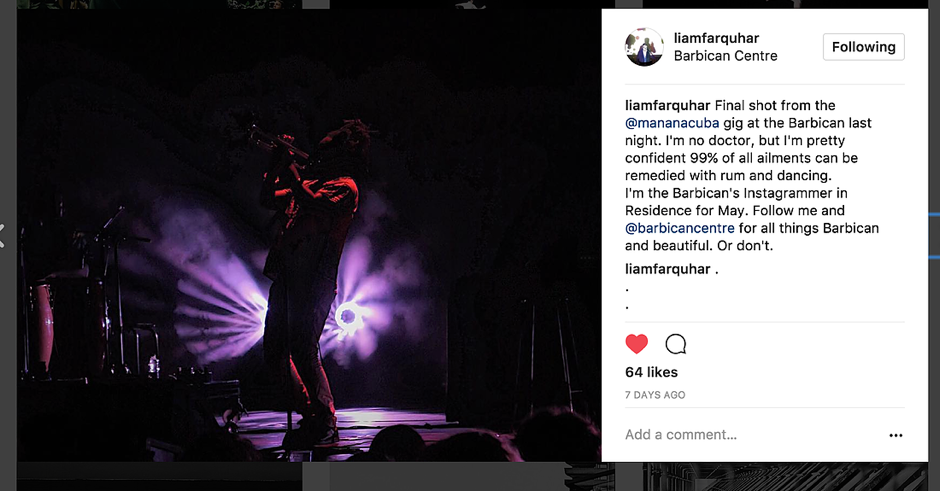 I love your photographs, and definitely back-stalked your Instagram quite aggressively. Has it always been a passion of yours?  
Not particularly. As a quick backstory, I used to have a marketing start-up but then needed to get a 'proper job', so I started management consulting 18 months ago. As you can imagine, beyond choosing which stock image to use for a slide deck, there isn't much room for creativity. So since starting at 'Big Co.' I've done salsa classes, singing lessons, painting/drawing/cut-outs, creative writing, photography,… the latter being the one that's grabbed me the most (when I'm not shuffling arhythmically in the salsa club, obviously).
Saying that, I've always been someone who's interested in getting beneath the surface of people – I want to know your deepest fears and desires and passions. Phatic conversations, although sometimes necessary and decent, make me die a little on the inside. Photography is one way I've been able to explore this.
NB: check out Otto & Flo series below (my personal favourite) 
Do you have any interest in classical music?  
My grandad, David Farquhar, was a fairly well-known classical composer in New Zealand, so I'm a fan of his work. And I always have time for the greats like Vivaldi, Chopin, and Tupac.
NB: I couldn't believe this link when liam told me. It turns out that Liam's grandad was a pioneer in the NZ composition scene in the 1950's.   
Do you listen to any classical music?
I do occasionally, although it's not a genre I immediately reach for when I listen to music. Which is curious because classical music has something for every occasion – it can be relaxing, stirring, mournful, evocative, energising. It's why I like what you're doing at herbert (herbert: thanks Liam!), reminding people that classical music is broader than just fancy people in fancy halls – it's for everyone. In the words of one of the greats – "It's time for us as a people to start making some changes".
NB: I've sent Liam herbert playlists so he can get listening 
Follow Liam on Instagram @liamfarquhar to see more of his beautiful photographs. i'll need your help to start lobbying him to make prints 🙂 
Tags: artist residency, barbican, barbican instagrammer in residence, instagram, liam, manana cuba, new zealand, photography, portrait, portrait photography, residency, the barbican, vivaldi