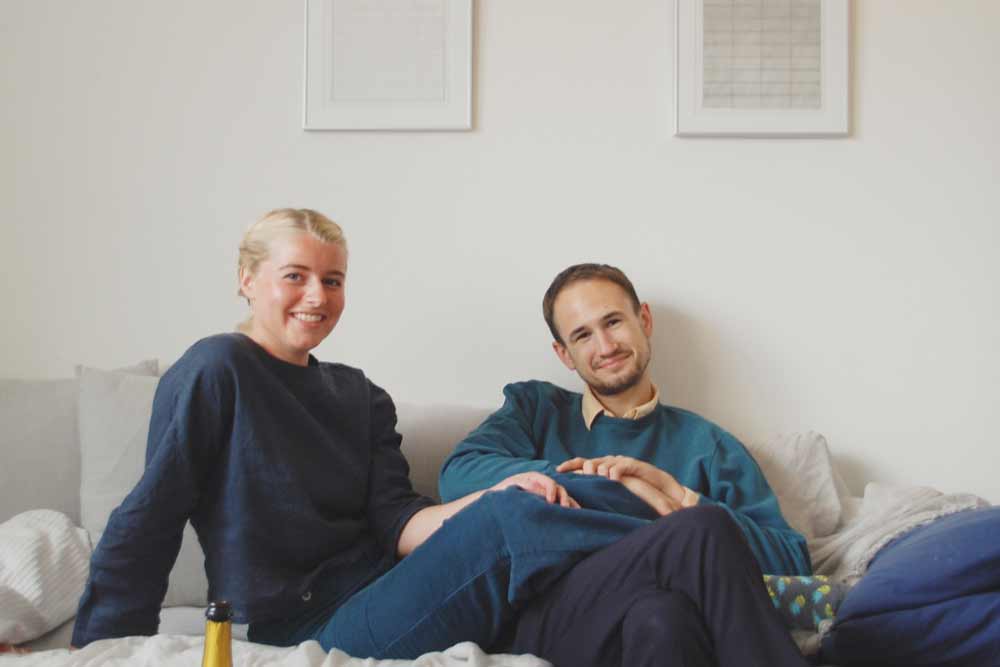 herbert @ home: charlotte & elliot
on a sunny sunday afternoon, I paid charlotte & elliot a visit (thanks for having me guys), and apart from their home, i wanted to get into their brains and hear what they had to say about classical music.
Fun facts: Charlotte plays the trumpet, makes honey, and is a boss girl in contemporary art. Elliot was the drummer in a band called Arthur Beatrice, is a maker of beautiful things (that daybed above, yup he made it) and works at a handmade glasses shop in London.     
herbert: so guys, let's get straight to it – do you like classical music? 
C: Yes, I do. It's very attached to memories for me from my childhood – we used to take a lot of long car journeys, and I remember my parents would always have classical radio stations on – I used to listen to them debate what each piece was, and I was just in awe of their ear for it. To me, that was the apex of braininess – to be able to pick up what all these complicated works were. A lot of the stuff I listen to now is very tied to those car journeys, and those very fond memories
E: I like some of it, in the same way that I like some of pop and some rock. I've always liked the cinematic stuff, and then when I met Charlotte, she played me quite a lot – so I listened to more of it. It was the story-telling, mood-setting type classical music that really 'got me.'
C:  like the Ravel that I played you when we were driving that time in Italy –
E:  – yes, exactly, it was nice because there was a setting and as you said, when I listen to that stuff now it has a memory attached to it.  Having said that I do find it hard to remember the names of these composers and tracks…
herbert interrupts: – by the way, i feel you on this one & it's a really big problem for me too, track names are too long and it's an absolute mega effort to find them even of spotify – (shameless plug: which is why i put together herbert playlists) – 
…now C interrupts: Elliot, wait, when you were in Arthur Beatrice didn't you work with the London Contemporary Orchestra? 
E: Yeah we did – that was amazing. They had been working with Actress, Jonny Greenwood from Radiohead, Frank Ocean and people like that around the time that we worked with them, which was cool but again, in that context, my first understanding of classical wasn't really thinking about it as 'classical'… it was as simple as liking the presence of violins in other types of music really.
herbert: does listening to classical music make you feel different to listening to a pop track? like if you listen to a really good soundtrack is there it a different experience, does it make you feel something else ? 
C: Yeah for sure, it's a completely different experience. Sometimes when you really session a pop song, it becomes very annoying – but I've genuinely never had that with classical. There are pieces I've listened to thousands of times and I still love them. Also, in terms the variety of emotion that I've felt the most 'earthshattering' listening experiences I've had have definitely come from watching live classical performances, where it feels so all-consuming. I love that in a symphony for example there's a real arc – a longer time period where you can have a really immersive journey or experience.
herbert: honestly, it's so nice to hear you speak about classical music like this, but you had it around you growing up – what if someone didn't have it playing in their house etc. what do you think is the big barrier to entry?
C: I think what classical music lacks is a guide, because it really can feel like an alienating and difficult world to enter. But if you have someone or something that could cherry-pick a couple of tracks, or show you where the things you like in other types of music can be found in classical, it wouldn't feel so overwhelming. I think music by contemporary composers like Max Richter,  Ólafur Arnalds & Nils Frahm can also be a really good gateway into classical.
herbert: ok, so do you think it's worth making the time for classical?
E: Of course. There's more of an immediacy about pop – I mean Justin Bieber's latest album was essentially 'focus grouped' and algorithms were used to make sure that was the case  but sometimes that's abrasive, and I want something cinematic to wash over me or give me that 'soundtrack'. You know when I'm looking out of a window of a bus or something –
herbert: – that's actually what I love about classical – that it gives you the room to – 
E: project your own narrative-
C: – you feel like you're in a film
C, E + herbert: yesssss
(Up: this is home, like the white chair? me too – elliot made it too) 
It turns out that classical music is what they predominately listen to @ home (serving as a middle ground between Charlotte's penchant for reggaeton and Elliot's for 'drum' music) so  i thought it would be a good idea to ask them for some tracks that they were listening to right now at home (their set-up is quite fitting: their two big speakers belonged to Elliot's grandad, and their amp belonged to Charlotte's grandad  – if that's not love folks, I don't know what is)
Charlotte's picks:
Morales : Parce mihi domine – Jan Garbarek, The Hilliard Ensemble
Intermezzo No.1 in E flat Major Op117 Adante Moderato – Brahms 
Piano Concerto No. 2 in F, Op.102: II Andante- Shostakovich
Elliot's picks: 
Tags: actress, arthur beatrice, brahms, chair, classical music, decor, design, drum, frank ocean, herbert at home, hilliard ensemble, interiors, jan garbarek, jonny greenwood, london contemporary orchestra, max richter, morales, nils frahm, olafur arnalds, parce mihi domine, radiohead, ravel, shostakovich, steve reich